Porta Pull Apprentice 2000 lb puller:
You requested it and Porta~Pull delivered, here are two innovative puller designs,
which are unlike traditional cable pullers. They are intended for contractors who need some extra muscle to tackle both electrical or data jobs.

These two pullers make quick work of branch circuits and panel mains up to and including 500 mcm and are a huge assistance when pulling multiple runs of heavy video, telephone and data cables.

These tuggers are compact, affordable and light weight, and a welcome
alternative to expensive and often bulky wire pullers.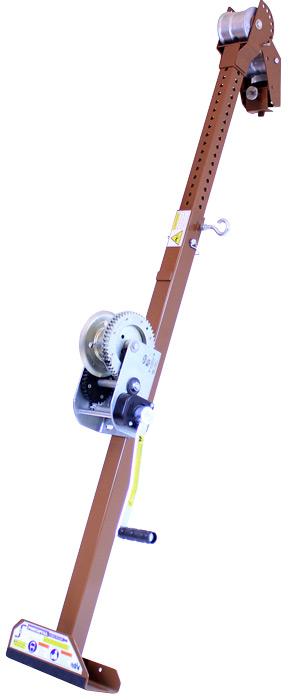 NO Electrical Power NO Problem!
The manual 2500 cable tugger is ideal for cable jobs
where electrical power is just non-existent.
Features:

* 2500 lbs Pulling Force, from any Direction.
* 2500 lb Braking Winch Included.
* Operated electrically with any 1/2" Drill.
* Heavy-duty Powder coated tubular frame.
* Self-Contained Design for 1 Person set up
* Pulling Speed No load-13 fpm
* Pulling Speed at Load 2500 lbs-5 fpm
* Universal Head fits 1" thru 4" Conduit.
* Right angle sheave for operator safety.
* Extends over 8 feet in length.
* Full 2-year Warranty Parts and Labor.

Wire Capacity

3 x 500 kcmil cables 250' with 4-90° bends.
4 x 250 kcmil cables 400' with 4-90° bends.
4 x 4/0 cables 400' with 4-90° bends.

Manual 2500 lb Tugger Price $1399.00